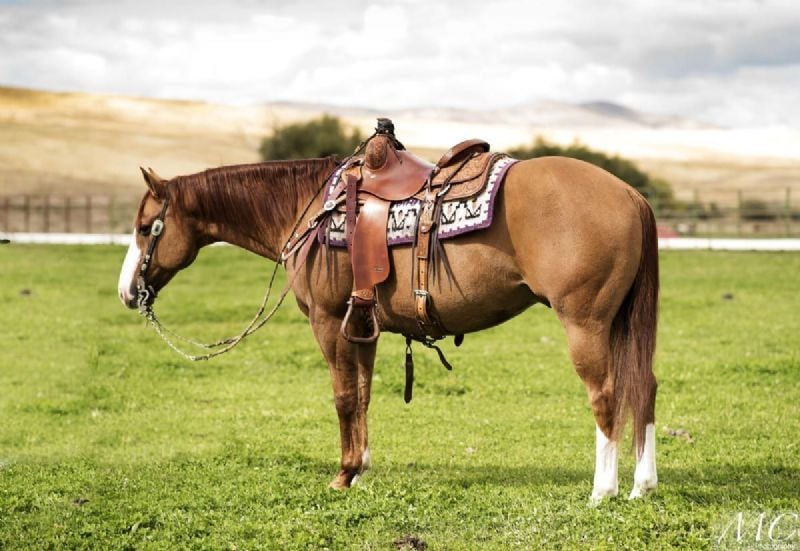 SOLD!
Consigned to Rancho Rio Horse Sale in Wickenburg, AZ
Here is a super cool switch ender! Jerry has hauled him to lots of ropings and will ride him in Vegas at the finale this year heeling. Savvy can really run and will not go by! He has a great stop and is stout on the end of the rope. He is also a very cool head horse. Savvy is good in the box, has very correct move across the pen and can really face! Savvy is fancy broke, and doesn't require a tie down! Savvy will take both leads, and will lope in the palm of your hand. He has a big pretty stop, and good correct turn arounds. Savvy is an awesome ranch horse that anyone can ride whether ranching, roping or riding down the trail! He is pretty to boot! Savvy is the whole package! Stands 14.3 hands and will weigh 1150lb. Call Jerry at 208-550-0992 or Megan at 541-263-1479 for more information.
Request Information!
Mr Smoken Eighty Six

---

Hollywood Jac 86

---

Easter King

---

Miss Hollywood

---

Miss Glenda Smoke

---

Hollywood Smoke

---

Glenda Echols

---

Watch Koko Jo

---

Watch Joe Jack Bars

---

Watch Joe Jack

---

Elano

---

Zips On Kady On

---

Zippo's Straw

---

On Kiddy On

---