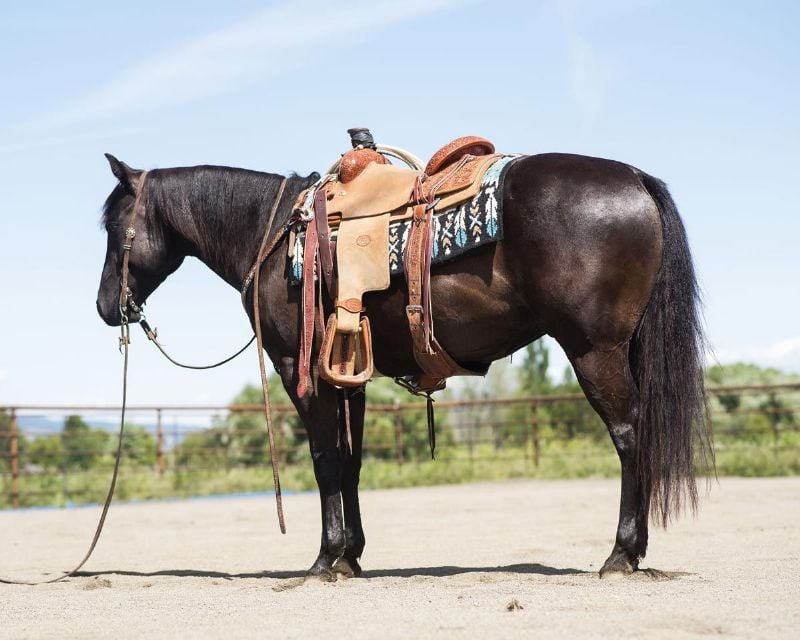 SOLD!
Consigned to Cowgirl Cadillacs Horse Sale in Wickenburg, Az
Uno is a very classy gelding with tons of personality. He loves people and loves to please!
Uno is very well broke and has a big stop! He has been ridden in the mountains of Wallowa County, Oregon, the Snake River breaks in Idaho, and the Hells Canyon backcountry of Oregon and Idaho. He has seen the Arizona desert and Megan loves to haul him anywhere we go!
He is fun to ride whether you are trail riding or showing off in the arena. He stays quiet down main street in big crowds, and in a herd of cattle. You can brand, doctor, and sort with the best of them! He had his start in a professional cutting program and is very cowy but he isn't afraid to go to one. He has also been heeled and breakawayed on as well. At 14.1hh and 1,00 pounds he is just the right size.
He is very soft in the face and is very correct in his training. He is a very smart, good minded gelding that is gentle and fun to ride!
Request Information!
---
Purrfect Timing

---

High Brow Cat

---

High Brow Hickory

---

Smart Little Kitty

---

One Time Soon

---

Smart Little Lena

---

Uno Princess

---

Seven S High Style

---

Real Gun

---

Playgun

---

Miss War Chips

---

Tachitas Last

---

Peppy San Badger

---

Tachita Tercera

---